The SAGINAW NEWS August 1st 1996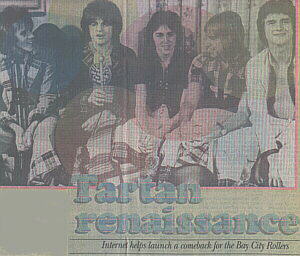 by Janet I. Martineau
Back in August of 1977, Loraine A. Koski recalls, she hated her parents, Floyd and Betsy Light of Reese. "I wanted to attend the Bay City Rollers concert at the Michigan State Fair (in Detroit)," says Koski, now a 32-year-old traffic supervisor for WLUC, an NBC affiliate in Marquette. "My mom did drive me and a couple of my friends to Bay City when the Rollers visited there two days before, but they didn't sing so I was kind of disappointed. "My mom said, 'In the next 10 years you won't even remember them. We aren't driving to Detroit.' "
Little did Betsy Light know. Koski, then 13 and now married, hung on to her passion for the Scottish rock band which got its name when a manager stuck a pin in a U.S. map and hit the town of Bay City, Mich. And on Labor Day weekend, she plans to make the trek to Bay County's Bay Valley Hotel and Resort to attend the Absolute Rollerfest '96 gathering with other Bay City Rollers fans who have met on the Internet. "Last fall when I got e-mail," recalls Koski, "I left a Rollers message on a board and soon discovered this whole Rollers fan world out there. Some people sit and read every single message and are so into it they don't have a life. "What was great for me is that I had lost track of everything. I never knew what happened to the various members, and now I know." Twice each week, fans of the now splintered Rollers meet to chat on America On-Line. And the World Wide Web boasts three Bay City Rollers pages -- one of them created by Gerd Buesken, a 34-year-old German software developer who lives near Munich. "I didn't expect to find so many Bay City Rollers fans in the whole wide world," says Buesken. "And since only a small percentage of the female fans have access to the Internet, that means there are still thousands of fans out there." His Rollers page has been visited by nearly 4,000 fans since it went online at the end of January. He has, he says, even corresponded with former Rollers members Ian Mitchell and Les McKeown via the Internet -- as have Becky Mosley of South Lyon and Cathy Rice of Pinckney, the two women who are organizing the Absolute Rollerfest in Bay City. Rice, a 32-year-old office manager for Armstrong Industrial Specialties, says about 45 people are booked so far, hailing from California, New York, Florida, Massachusetts, Ohio, Illinois and Indiana as well as Michigan. And Mosley says she's even gotten a call from a fan in Vancouver who is considering it.
"We met each other online," Mosley, 33, says of Rice, "and we got to talking that we should have a Rollerfest to meet in person all the people we have met online. There have been a couple of Rollerfests in California, one in Pennsylvania and one in Japan this spring, but never one in the town for which they were named." Mosley, a home health care worker, and Rice are paying the expenses out of pocket -- from hiring a bartender to renting a Karaoke machine -- and are spending countless hours organizing the event. And a couple of good-hearted supporters are paying the airplane fare so Mitchell, who now lives in California, can attend to perform an acoustic concert. He is not charging a fee for performing, she says.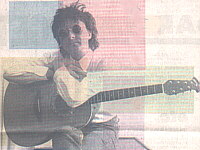 "We wanted Les McKeown and his full band, called Leslie McKeown's 70's Bay City Rollers," says Rice, "but the Bay Valley Inn did not have the facilities to accommodate a full band.". Rice and Mosley, by the way, did see the Aug. 26, 1977 Rollers performance at the Michigan State Fair. "But I was really mad at my parents back then because they wouldn't let me go to their Bay City visit," says Rice with a laugh. Mosley says the one-day Absolute Rollerfest will featuretrivia and name-that-tune contests, a buffet dinner, the Mitchell concert "and 30 hours of Bay City Rollers on video." "No one took us seriously that we were going to do this," says Mosley, "and it has been a lot of work. I am a divorced mother of two children and Cathy has a little girl, and it has taken us away from them too much. But I think it will all be worth it."
Critics were never big fans of the Bay City Rollers, calling their music insignificant bubblegum. But legions of teen-agers who befriended the tartan-clad group which wore knicker-length pants inspired a Beatles-like frenzy in the 1970s. Koski, a 1981 Reese High School graduate, recalls the five-hour Rollers visit to Bay City on Aug. 24, 1977 -- attended by more than 5,000 screaming fans as the band members signed a mural painted in their honor, put their hands in cement and were honored by skeptical city officials.
"There was tons of screaming going on before anything happened, before they even got there, and I remember thinking how neat it was to stand next to all these wacky people who liked the same group I did," says Koski, who is these days buying Rollers CDs released only in Japan to replace her aging vinyl collection. "One girl fainted and had to be carried out. "It was pretty nuts. My younger brother was covering his ears and I remember telling him, 'If you scream too it doesn't hurt as much.' " Rice, who says she and Mosley finally met face-to-face at a McKeown concert in Windsor last October, says she used to own and wear a full "Roller gear" outfit while Mosley says she sill keeps her assorted Rollers scrapbooks. "And I had a paper big full of magazines about the Rollers," recalls Koski. "But when I left home my parents cleaned out my room and we haven't seen the bag since. "My dad still feels bad about it. He keeps thinking he'll find it some day."
ABSOLUTE ROLLERFEST '96
* When and Where: 3 p.m. to 1 A.m. Saturday, Aug. 31, at the Bay Valley Hotel and Resort, Bay City.
* What: A gathering of fans of the Bay City Rollers, a popular 1970s band from Scotland. Former Roller Ian Mitchell will attend to perform a concert, sign autographs and answer questions. Other events include "Name that Roller Tune" contest, Roller Karaoke, viewing of Roller videotapes, Roller Trivia Contest, Most Creative Rollergear Contest.
* Cost: $35, which includes all the events and a buffet dinner. Rooms at Bay Valley are extra, priced at $89.
* To order tickets to Rollerfest, send a check or money order to
Cathy Rice, P.O. Box 528, Pinckney, Mi. 48169 by Friday. Aug. 23. To book a room, call Bay Valley at (517) 686-3500 and tell them you are with the Rollerfest group.
ROLLERS ON AOL
Fans of the Bay City Rollers meet twice a week in an America Online chat room to discuss their favorite band, at 9 p.m. Wednesdays and Sundays. E-mail the chat room host Saxon777@aol.com for instructions on how to access the site.
ROLLERS ON THE INTERNET
Three World Wide Web sites, two of them based in Germany, are devoted to information and pictures about members of the Bay City Rollers.