RollerFest Japan 1997
Nagoya Bottom Line
Feb. 10, 1997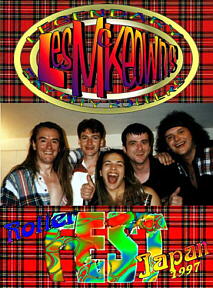 Photo made by Keiko McKeown
This was the 2nd RollerFest Japan that we RollerManiaks Japan "RMJ" held for the fans. The first fest was held inTokyo on 28th April, 1996. Even without any Roller, we had over 100 fans from all over the country then, and this time we had "Leslie McKeown's Legendary Bay City Rollers" with us, in Nagoya after the show at the "Grill and Bar" restaurant on the grand floor of the Nagoya Bottom Line with over 200 fans.
The show was just brilliant, one of the very best show of this Japan Tour. Mr Akihito Ozeki says "It was the best show of the tour and with Leslie's great stage action and the powerfull music and quality of the band, the fans' great call of "We Want The ROLLERS!!" for encore, the last number "Saturday Night" singing along with all the audience, it was far better than any other reunion concerts of the past." And Mr Kazuyoshi Araki says "They played far better than 3 years ago and of course Leslie was just great! I was very happy that they played lots of new songs, the first time I listen to them I really liked them all. And I thought the new version of "Give A Little Love" was really good arranged to give full play of Les's great ability and fascination as a singer. My own high light was "Remember", I had a little expectation since I sang it along with Les 3 years ago, and it happened AGAIN!!"
After the great show finished, all the fans came down to the restaurant with the excitement of the show. There were lots of food to eat and drinks, but they were too excited to see Leslie and the band in person soon and could not eat much. Lots of people came from all over the country, and a new generation fan who is a 17 years old high school girl came from snowy Aomori which is1500 km far away from Nagoya. We all introduced each other and chatted awaiting for the moment Les and the band to appear.
When Les and the band came into the restaurant, everyone's excitement reached to the top!! It was really hard to control their excitement, but I did understand how happy they were,because they have been supporting Les and his Legendary Bay City Rollers, and the RollerManiaks Japan for so many years, and of course all of them are the long lasting loyal fans of Leslie for over 20 years, and from now on too till we die. (Yes, lots of fans swear this!!)All of the fans got the autographs and had a picture taken with Les and the band and had chat with them.For many people it was their first time to see Leslie in person and it was their "dream-come-true" night in life.
Akihito says "It was really enjoyable and feeling "at home" atmosphere talking with other fans and become friends.Les and other guys also looked to be having a very good time with us. I talked to Les and Russell, and also to Les's manager Andrew. He was a very nice friendly guy. I talked to Si for the first time, and he was also very kind and nice. Oh, what a great time I'm having!! talking to Legendary Bay City Rollers so closely!!, I thought.Again, I really was happy myself being the member of RollerManiaks Japan."
At the reception we gave all the people a lottery ticket, and during the fest Les and the guys drew lots for presents: 5 new cassette tapes of "Legendary Bay City Roller...LESLIE McKEOWN Solo Hits Collection" which also contains the new version of Saturday Night and Open Your Heart, and 3 fantastic posters of the RollerFest Japan 97. Les, & the guys and also Jube presented the prize to the winners.
I wish we had more time to talk, but time was limited and we had to have the finale with Les's speech. Les thanked to all for their loyal support for over 20 years and asked for their continuous support to him and his band and to RMJ. Oh, what a night! Everybody was so happy, and could not leave for awhile, some girls were sobbing with joy of seeing Les. All of them appreciated Les and the guys to join the fest and RMJ's hard work to make it happen. We all wish we will have a chance to have the 3rd RollerFest Japan with their return tour in next year.Yes, We Want Rollers!! Come On!!
Report by Akemi Yako - RollerManiaks Japan