June 17, 1996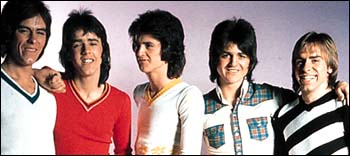 Les McKeown survived rocky times
"Every cliché you've ever heard, we probably lived it," says McKeown (at the London Zoo and, center, in '74 with bandmates Alan Longmuir, Stuart Wood, Eric Faulkner and Derek Longmuir). "At one point you could buy Bay City Rollers panties with our picture on front."
The Bay City Rollers were prehistoric New Kids on the Block. While the Scottish quintet's music made Sonny and Cher seem like the Berlin Philharmonic, their cheery attitude and dreamy looks won legions of fans. After one London performance in 1975, 250 girls became so worked up that they had to be treated for shock. The group's success crossed the Atlantic that same year with their No. 1 hit "Saturday Night."
But their tartan costumes hid tensions that still rage 18 years after their bitter breakup, when Les McKeown fell out with his bandmates because he wanted to perform his own songs. He later formed a spinoff group, now called Les McKeown's '70s Bay City Rollers, rankling the others, who currently tour as the Bay City Rollers. Earlier this year the two camps refused to meet to negotiate a legal settlement for a reported £2 million in royalties owed to them by their record company. "The feeling between them is so bad you can't get them in the same room, never mind around the same table," their manager Tam Paton told The Times of London in April. "We should all be megamillionaires, and we're not," says Rollers lead guitarist Eric Faulkner. "We've had the biggest record deals, but it was nothing but trouble."
Hard times forced McKeown, 40, to sell his 60-acre country manor in Scotland. Now living with his wife, Peko, a former Japanese rock singer, and their 12-year-old son Riki in a second-floor flat in East London, he says, "I get by. It's not exactly hand-to-mouth. It's a little better than that." He blames himself for his financial woes. "When you're in a band, you think you're a demigod," he says. "I never thought about money until I left. But I've got enough to eat, a car to drive, enough to pay the phone bills. Do I really need a mansion and servants? Not really. I had it all. It's just a bloody headache."
PHOTO: Ken Goff