BAY CITY OLDERS
THE pop world's first boy band is back - but on mature reflection the Bay City Rollers now prefer to be called a "man band''. Their unlikely return comes more than 20 years after they last figured in the charts with such hits as Shang-a-Lang and Give A Little Love.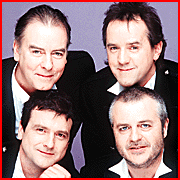 And this time they aim to avoid the mistakes over drink, drugs, squabbling and sheer gullibility that led to them losing out on £120million in royalties.
The Edinburgh-based Rollers, who should be lazing in luxury on earnings from their 1974-1979 glory days, instead drive beaten-up cars, have rented flats and eke out meagre livings.
And the strain shows on the lined faces of the group members - reduced to four following a decision to quit by disillusioned Derek Longmuir, 45, who now works as a nurse.
But the four see themselves as older and wiser. They certainly look older.
Lead singer Les McKeown, stockier than in his platform-booted heyday, is wearing reasonably well at 43.
Also 43 but grey-haired and double-chinned, Eric Faulkner bears no likeness to his 1970s self. Still, he keeps a sense of humour. Saving a man from suicide in 1989, Eric told him: "You think you've got problems - I used to play guitar with the Bay City Rollers."
Keyboard player Alan Longmuir, 49, had a heart attack four years ago and is paralysed on one side after a stroke.
Compared to Alan, bassman Woody Wood seems fairly well preserved, if a little rougher than in his youth.
They all recall the days when the wee lads in rolled-up trousers, tight tops and blow-dried hairdos had an amazing run of international success.
Some people made millions from the phenomenon - but not the band, who claim they were victims of "one of the biggest rock and roll rip-offs ever''. Former manager Tam Paton insists that he can't be blamed.
Feuding and bitter court battles ensued. And the singer went out on his own with a band known as Les McKeown's Seventies Bay City Rollers.
But now the real Bay City Rollers have united in a bid to recapture their fame - and finally make a fortune.
McKeown says: "We wasted a lot of time being angry with each other.''
THEIR TEN TOP HITS
Sept 1971 Keep On Dancing: No.9
Feb 1974 Remember (Sha-La-La): No.6
April 1974 Shang-a-Lang: No.2
July 1974 Summerlove Sensation: No.3
Oct 1974 All Of Me Loves All Of You: No.4
March 1975 Bye Bye Baby: No.1
July 1975 Give A Little Love: No.1
Nov 1975 Money Honey: No. 3
April 1976 Love Me Like I Love You: No.4
Sept 1976 I Only Wanna Be With You: No.4


---
© MGN, Ltd, 1997, (0171-293-3000)
One Canada Square, Canary Wharf, London, E14 5AP