Thursday 24th February, 1500 GMT
Rollers cancel second Bristol date 25 years after disappointing fans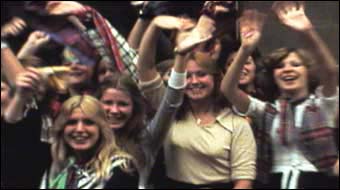 Excited Bay City Rollers fans queue outisde the Colston Hall

This was the sight in Bristol in 1975 when one of the top boy bands of the decade, the Bay City Rollers, were due to play at The Colston Hall.

A fan weeps hearing the news
But the fans' joy turned to tears when the band cancelled the show just minutes before the start after their lead singer was in a car crash.

He was not hurt but it meant the Bristol concert was cancelled - much to the disappointment of thousands of young women.

Fans heard the news from BBC Radio Bristol that their heroes would not be playing and struggled to take it in.

History repeated itself today as the Rollers were due to play again but cancelled a second appearance at The Colston Hall. Will their West fans ever get the chance to Shang-a-lang with their idols?