Mail on Sunday
April 4, 1999
And then there were four...
Interview by Maureen Paton; Portrait by Brian Aris
Back in the Seventies, the Bay City Rollers became pop's first boy band. Five likely lads with a love of tarten. Now, minus one, it's comeback time
This is a story of lost innocence and lost money - some £120 million. It has drink, drugs, feuds, a svengali and a vast tartan army of little girls. Its a story that could only have sprung from the pop industry. There was a time in the mid-seventies when the Bay City Rollers were bigger than the Beatles, bigger than Bowie, bigger than Anyone. Between 1974 and 1977 lead singer LesMckeown, shaggy haired guitarist Eric Faulkner, Stuart "Woody" Wood (bass) and brothers Alan keyboard) and Derek ( drums) were blow-dried, primped and packaged to become the very first British boy band, two decades before Take That. The working class lads from Edinburgh estates, who took their name from a US city, bestrode the globe in half-mast tartan loon-pants, transforming overnight the fortunes of Scotlands ailing textile mills, and subsequently inspiring Vivienne westwoods tratan nappies. To most people over 20, the Rollers were hilariously kitsch; to young girls, they were essential.Screaming toyboys in tribal tartan laid siege at every live appearance.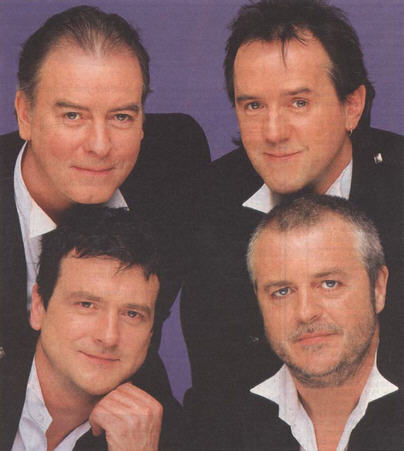 Between 1975 and 1978 they had 18 top 5 hits in America, including "Bye bye baby" "Give a little love" and "Love me like I love you". They hosted their own TV series "Shang a lang". they were the first band since the Beatles and Rolling Stones to repeat their UK success in America and Japan. But by the end of the 70's, the royalties had disappeared, and the band fell apart. In 1989, their great days long over, Faulkner made the headlines again, rescuing a pensioner trying to drown himself at Bexhill. He reportedly said to the man "You think you've got problems - I used to play guitar for the Bay City Rollers". The details of their precipitious rise and fall are gruesome even by the rapacious standards of the Rock business. Yet its another truism of this industry that past success can be repeated, if there is the will - and the money. So, like weary survivors of a long war, all except Derek have been patched up and put back on the road for another go at stardom. Faulkner has written a new single "Automatic" for release at the end of this month - an album of new material will follow - and a warts-and-all documentary is screened on BBC1 tomorrow. Regrets, well just a few "Some people need to be exposed" says Faulkner "By rights, Alan should be living in a castle in Scotland, and Les, who loves London, should own half of Mayfair. When everything finally gets unearthed, this will be seen as one of the biggest rock-n-roll rip-offs ever. The merchandising situation alone was an absolute robbery" Faulkner says that he dreamed up the tartan image as a cynical gimmick. Yet the result was explosive. One of their ardent fans, TV presenter Lowri Turner, says that an entire generation of women now aged between 32 and 36 - she is 34 - were fans. But because the majority were pre-pubescent girls, they're not taken seriously - they're like the band that never was"
Meeting in the lobby of a central London Hotel, Faulkner and Mckeown retreat behind a Berlin Wall of cigarette smoke as they recall their tribulations. "We are living cliches right now" admits McKeown "People talk as if we were a cross between puppets and victims" They have never recovered from massive tax demands for monies they claim they never received. Unlike ex-manager Tam paton, now a millionaire property developer in Edinburgh, they live modestly, and scrape a living by trading on their former fame. Three of them - Woody and the Longmuir brothers - are still in Edinburgh. Woody, 42, recently married for the first time. Faulkner and McKeown joke that he's probably get divorced now that the married couples tax allowance has been abolished. the eldest Roller 51-year old Alan (Big Al) a divorced father of one who has a history of heavy drinking, suffered a heart attack in 1995. He's now recovering from a stroke that left him paralysed down one side. His 45 year old brother Derek, a shy. private man left the Rollers for good in 1984 to train as a nurse. He now rents a small flat in Edinburgh and is working at the city's Royal Infirmary. Billy Lyall, an early member died of aids in 1990. Paton, their manager, who is 60 served a year in jail in 1982 for indecent acts against 10 teenage boys, and committing an act of gross indecency with a 14 year-old boy. Of the two strongest characters, both 45, Faulkner comes across as reflective while Mckeown is inclined to be loud-mouthed and nervy - a wise cracker. He rents a flat on the outskirts of London with his Japanese wife, Peko and their 14 year old son Richard. Faulkner lives in rural Hampshire with his singer girlfriend Kass and wryly hopes that he may soon have the where withal to start a family.
Yet at the height of their success, the Rollers were like royalty: they never carried cash; their entourage would take care of everything. "We were the ultimate spoiled children, and Tam was the nearest thing we had to a substitute father" says McKeown. One music business insider recalls Paton opening his briefcase to show him all the boys' chequebooks he kept. Their producer, Phil Wainman, who had made his reputation with Mud and Sweet, would take them home for Sunday Lunch and try to protect them like a big brother. But Wainman fell out with their record company Arista, and they were gradually sucked into a fight for the right to grow up and take artistic control of their lives. Their reputation as a "manufactured" band obsessed them. "These days no one questions session guys playing on Spice Girls records" says Faulkner. "Arista retained 50% artistic control, and that damn clause came to haunt us. We wanted to write more of our own material, but they wanted more cover versions".
More rancor ensued in 1976 when Alan was sacked for being too old - at 27. "We showed no solidarity" admits McKeown "we should have gone on strike. "There were vested interests that kept us at loggerheads with each other" Faulkner explains " I got into taking speed and sleeping pills. That was my mad period. People tried to make out it was a suicide attempt, but it was just a mistake." "There's nothing real in that life, going from limo to airplane to gig all the time. Its like being in a permanent trance. That's what happens when people resort to drugs or booze or Buddhism." Then they started getting calls from lawyers and accountants, and they began to realize that a great deal of their money had been lost.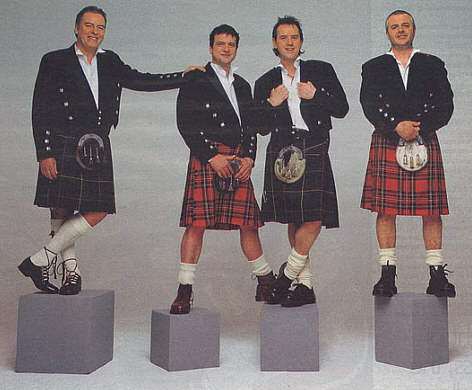 Now the carefree image finally cracked. McKeown, hot-headed, a big spender went off the rails. "I never consumed any drink and drugs until 1976, when all the shit started" he says. "Then I did go into a bit of a downward spiral. I did everything except heroin. I do believe people take drugs to escape. the trouble with psychological scarring is that you cant see it" In November 1978, McKeown left to go solo. Two weeks later, his house was repossessed. And it got worse. He made an album, prophetically titled "All Washed Up".
In 1990, he came only 4th out of 8 British contenders in England's Song for Europe entry. Finally in 1992, he took the others to court over the Bay City Rollers' name, which no one had ever bothered to register. The judgement allowed him to perform as "Les McKeowns' seventies Bay City Rollers" Faulkner kept another, more plausible version of the band going, sometimes playing R & B on the student circuit, always condemned, like Flying Dutchmen, to wander the country, endlessly performing greatest hits. Shadowing all their lives has been the presence of Tam Paton, whom they sacked in the autumn of 1979 after 11 years as their manager. Paton had controlled them to the extent of banning public relationships with girlfriends. They partly blame this for the rumours of homosexuality that have pursued the band. "There was a time when everyone involved with us was gay or bisexual. Nowadays we have a big gay following" Faulkner acknowledges. There have also been questions asked about the real nature of Patons' relationships with his young charges. Faulkner says "People have kept asking whether Tam abused me, but he didn't" But Faulkner, who was expelled from school for insubordination, says he constantly rowed with Paton. "I was always arguing. I sassed him out a long time ago. He couldn't stand anyone else having a power base." "We were used, " McKeown mutters, but declined to go into specifics. "Tam was very scary, I used to go into palpitations just talking to him on the phone" Phil Wainman agrees. "What probably motivated Tam was working with young boys - that was his thing. Tam's biggest downfall was that his brains were in his trousers, but he paid the price for it by going to jail" He claims that Paton even propositioned him. "But he must have been desperate. I'm very heterosexual."
In Roller days, Paton, an ex-potato merchant from Prestonpans, had dark, good look; now he's the size of a sumo wrestler. He lives in a high security, ranch-style bungalow near Edinburgh, with shutters, a barbed-wire fence, and an old Lee Enfield rifle mounted over the fireplace. He greets me barefoot, accompanied by 2 rottweilers, confiding that he also used to keep piranhas but got tired of feeding them meat. He's open about his year in prison. "The other prisoners expected an out and out poof, with high heels and a handbag by my side" he chuckles. "I had a couple of fights in the exercise yard and managed to leave my mark" When discussing his conviction, he is at pains to say that "There were never any sodomy charges against me" But as to the whereabouts of the Rollers' money, he swears he knows nothing. "The accountants totally misled me" he claims. He claims he is still owed £400,000 in unpaid commission, and that he was left with just £70,000 after his sacking. And he cant resist having a last dig " the Rollers are finished and gone. They're just a big curiosity because of the intrigue and the squabbling"
The Rollers' new manager, Mark St John, wears black leggings and describes himself with masterly hyperbole as "The Robin Hood of Rock and Roll - I'm darth Vader meets the Grim Reaper" he's on a mission to revive the careers and finances of obsolescent pop groups like the Pretty Things and Arthur Brown. "I bite the legs of the bigger boys" he says."I'm a 46 year old man in tights who sues record companies for a living"
Two years ago, he became interested in the plight of the Rollers trying to recover their lost money. He bluntly told McKeown and Faulkner to bury their differences and reform as one band. the group members turned up for their first meeting in years driving old Toyota's; looking at each others cars, they realized St John was right. "We wasted a lot of time being angry with each other - I've been angry for 17 years longer than I needed to be" says McKeown. "It was as traumatic as a divorce - the loss of trust and the feeling of being stabbed in the back".
The band is now engaged in 'amicable' talks with their old company, Arista, Allowing for inflation, the original missing royalties of £20 million are now estimated at £120 million. last year, in Japan alone, the Rollers sold half a million of their re-mastered hits."It was a schizophrenic career, with much bigger hits outside Britain" admits Faulkner "When we looked back on Britain, all we saw was a legal nightmare."
Yet now the mad whirligig of fashion could make them strangely cool again.With Scottish nationalism resurgent, there never has been a better time to flaunt the tartan now discreetly draped as a backdrop to their stage shows. And posterity, still in the grip of a 70's revival, keeps on plundering the rollers' back catalogue. Catherine Johnson's recent stage play "Shang a Lang", was set at a meeting of Roller fans. the ITV comedy series "The Grimleys", gleefully features gormless characters in Roller Stroller trousers and has their old hits on its soundtrack.
Faulkner remains philosophical, as well he might, about being stuck in a time warp. "If you only cover the old hits you become a parody" he says, "But for years now we had to do the old stuff to survive. Being a Bay City Roller was the only job open to me. We've got to move our careers on - we're a MAN band now, not a boy band."
"George Michael had a second chance after Wham, and I hope we do too. But the musical scene is circular; sit around long enough and we'll be back in vogue. Since punk, everything has been recycled - and we're on spin wash at the moment." "I don't regret anything except the money; we had good times. All that tartan was great. maybe we should stand for the Scottish parliament." "Its just a pity that the Rollers never made a film like the Beatles, Elvis and the spice Girls. Although in our case it would have been X-rated."
Remember is on BBC1 tomorrow at 9.50pm