THE SUN TUESDAY DECEMBER 10 1996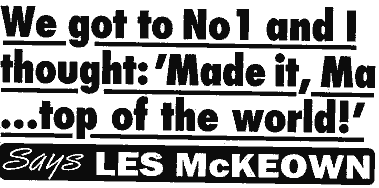 B.A.Y, B.A.Y, B.A.Y.C.I.T.Y, With an R.O, double L, E.R.S, Bay City Rollers are the best! THOUSANDS of young girls would stand at airports, concert halls and outside hotels screaming the Bay city Rollers chant to the tune of This Old Man until the band passed.
Strange to think Rollermania was all about five young guys from Edinburgh wearing three quarter length tartan flares, platform shoes and cheesy grins. Derek, Alan, Eric, Woody and Leslie. Guitarist Alan Longmuir was the one who looked a bit like Sydney Devine and stood behind the hunky ones. He formed the band way back in 1967 at Tynecastle school with brother Derek who was blonde and toothy and played the drums. Eric Faulkner and Stuart Wood who,joined in the early 70s played guitars, got some screams and sang a little bit. But it was cute singer Les McKeown, the Ronan Keating of his day, who the girls yelled loudest for. Les joined the Rollers in 1973 and within a year the Scottish band were the biggest British pop group since The Beatles. On the surface the Rollers seemed to have it all ...fame, fortune, girls, limousines, the best hotels, bottles of bubbly and everything a young man could desire. The reality also included bust-ups, stage fights, court cases, prison, disputes over money, splits and undignified comebacks.
Les, 40, and living near Munich in the beautiful village of Bad Tolz with his Japanese wife and son prefers to remember only the good times. He said: "Of course I'd do some things differently but believe me it was great ... all of it. "Everybody in the world would do something different if they could go back in time but in general it was brilliant, a great time to be a teenager." The Bay City Rollers was the brainchild of Tam Paton. He spotted the youngsters playing Edinburgh clubs and named them after sticking a pin in a map of the USA and hitting Bay City. The band actually had a minor hit with Keep On Dancing which reached No9 in 1971 but the breakthrough came in 1974.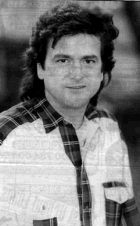 Remember (Sha-la-1a), written by and Phil Coulter, made No6 before the never to be forgotten Shang- a-lang bulleted to No 2 in the charts. That signalled the real arrival of Rollermania. The band chalked up monster hits with Summer Love Sensation and All Of Me Loves All Of You before the all time rollers anthem Bye Bye Baby finally took them to the top of the tree in March 1975. Bye Bye Baby was in fact an old Four Seasons song. But its history was lost in the waves of Roller hysteria. Les said: "That first Nol was a bit special. "I reckon that I was the member of the band who paid least attention to what number the songs actually got to In the charts. "It was pretty obvious from the mental concerts we used to have that we were big, really happening. "I always thought there was a danger with getting a No 1 that anything less with the follow-up would be seen as failure. "But Bye Bye Baby made me think, 'Made it ma - top of the world'." Rival heart-throbs The Osmonds had been beaten of,newsmen were investigating the Rollermania craze and there was hardly a teenage girl in the country without a tartan scarf wrapped round her wrist. During a Radio 1 fun day at Mallory Park race track, attended by 47.000 mostly girl fans, the Rollers were scheduled to make a live appearance on a boat in the middle of an ornamental lake. Their arrival caused pandemonium as thousands teenagers took to the water to try and greet their heroes. Forty fans had to be pulled from the lake with 35 requiring medical treatment. Four more were hospitalised and the Rollers were forced to leave by helicopter without performing. The follow up to Bye Bye Baby, which stayed at No 1 for 6 weeks, was Give a Little Love. It isn't remembered as well as its predecessor but it also went to No 1 for 3 weeks. The two No 1s' marked the pinnacle of the Rollers' career. Although they went on to have a No 1 in America with Saturday Night in January 1976, the follow-up single which the band wrote themselves, failed to live up to expectations. The cracks began to appear as punk rocked on the horizon. Critics had already suggested the band didn't play their own instruments and the cutesy image was dented for good when Eric Faulkner came close to death after taking a drug overdose at Tan Patons house. FANS' FAVOURITE ... Les McKeown has fond memories of his Days Rollers heyday. Tales emerged of the group's appetite for bedding groupies and in June 1976 Alan Longmuir quit.The glory days over, the band split in 1978 after McKeown had an on-stage punch up in Japan with other members of the band. Les said: "The end of the band was just part of growing up really. "Very few teenybop bands last forever or even more than three or four years. "We'd had our moment and it was time to move on, get married and have kids." Les who married his long time Japanese girlfriend Peko in 1978 and moved to London. Les, who once lived with Swedish sex symbol Britt Ekland, hooted: "The recipe for happy marriage? Plenty of great sex. Lots of it ." He added: "We were fated to meet. I met Peko at Cambridge Circus in London when we sat at restaurant tables next to each other. "We got chatting and that was it. But apart from the sex you've got to respect each other get on and not be too bossy that's hard for a Scotsman but not when the mere sight of someone makes you go weak at the knees and you're totally in love with the person." Despite marriage and a child the couple have a son Richard,12 The Bay City Rollers have been impossible to kill off. Faulkner and McKeown both pursued brief solo careers and Les even released an album called All Washed Up after the split. But they reformed in 1982 for a tour of Britain, Australia and Japan - the same year former manager Paton was jailed for three years on indecency charges. . After the tour, the band split into two bitter camps.
Les launched Les McKeown's Legendary Bay City Rollers while Faulkner, Alan Longmuir and Woody toured the club circuit as the Bay City Rollers. Only drummer Derek, now a nurse in Edinburgh, has kept out of the bitter fray. He wisely invested his Roller money in property deals. The rest of the band are still fighting for 20 million british pound they claim record company Arista owes them in royalties.Yet according to Les, a full reunion is now on the cards again. He said: "I speak to the other guys, they keep threatening me with a reunion."And we are talking over the possibilities at the moment." Until then, Les is happy to front his Legendary Bay City Rollers and dream of moving back to Scotland Les, who speaks fluent Japanese and German, said: "We still get the odd scream in Japan. Japan and Germany are the places where most of our business is these days. Japanese fans are very well-educated and like people to play good quality music and give them a great show. "They pay more attention to the music than the ripples on my stomach. "Well they're not so much ripples as tyres." He added: "Ideally I'd love to be living back in Scotland but I can't - I've got to go where the cash is. "If I lived in Edinburgh, the cost of getting eight guys to Germany would just rocket and I can't afford that. "Germany's a nice place to live but they eat a lot of sausages and I'm more of a fish tea man.