Brisbane Courier Mail
28 August 1985
Roller Coasters!
Skin diving off Hamilton Island, surfing on the Gold Coast and meeting beautiful women are just some of the activities the Bay City Rollers have been enjoying during their two week stay in Queensland this month
The Scottish pop band arrived in Brisbane today on the last leg of their eight week Australian "comeback" tour.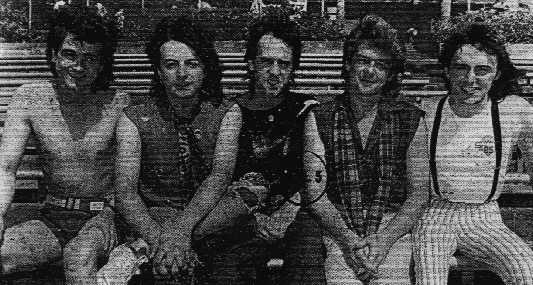 It's been nine years since the Bay City Rollers last visited Queensland, and this time the lads made sure they had a good time.
"Last time we were in Australia we didn't have a chance to see anything," said lead singer, Les McKeown. "Because of all the hysteria it was like being part of an army the rules were so strict."
"This time around we've been seeing a lot more of the country side and the place is just wonderful. Sure, we still get approached by a few girls, but most of our time is our own."
The Bay City Rollers are in Queensland for a series of concert dates including Sibyl's tomorrow night and Rock Arena on Friday night.
According to guitarist and band manager, Eric Faulkner, the pub tour so far has been an overwhelming success. The band has been attracting packed houses wherever it's been.
"We don't mind playing the smaller gigs. It's a lot more intimate than what we used to do," said Eric. "Last time we couldn't even play our songs properly because there were so many interruptions."
This tour, however, has not been without its problems. Two concerts, at Ballina and Glaen Innes, had to be cancelled after the truck carrying the band's sound equipment overturned.
What fans can expect to see on stage during the Roller's Queensland tour is an eight piece line up, comprising Les McKeown, Stuart "Woody" Wood, Eric Faulkner, Pat McGlynn, Ian Mitchell, George Spencer (Derek Longmuir's replacement) and backing vocalists Karen Prosser and Janine Andrews.
Brothers and former heart-throb Rollers, Derek and Alan Longmuir, opted out of the band's world tour because of commitments back in Britain. Derek is studying to become a paramedic while Alan is involved in real estate.
Of the touring line-up, Les, 29, is the only member who is married. He is travelling with his Japanese wife, Keiko, and baby son Jube.
In concert the Bay City Rollers perform for about 90 minutes playing around one hour of new material and about half an hour of the old.
Their new album, "Breakout '85", featuring the single "When I find Out", will be released in Brisbane next week.