Absolute RollerfestTM 97 in Las Vegas
Aladdin Hotel
Absolute Rollerfest ™ '97 was held in Las Vegas Nevada August 22-24. The following review is a combination of several posts that appeared on the AOL BCR board. Each passage is preceded by the screen name of the contributor.

Enjoy !
Before we start I want to introduce you to the '97 Fest Committee
OK here we go...
Rmosley: We turned the Aladdin into one big BCR fanfest! Everywhere you looked, there were some of "us" in our BCR shirts and tartan accessories, buttons, scarves and the like. We never had any trouble finding kindred spirits. Heck, even the lounge lizards in the bar were commenting on how many of us there were!!
Saturday afternoon:
Rmosley: At the beginning of the fest, Kathy Page knocked us out by singing "Amazing Grace" followed immediately by-surprise-a bagpiper, playing the very same song, followed by "Flower of Scotland," and the other song that I can never remember the name of.....help me here, somebody...I could hum it for you! LOL (JJC: Scotland the Brave, of course) The bagpipes were such a great idea, and they really got things started for the 'fest!!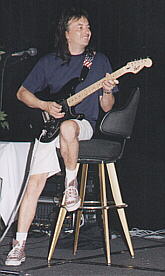 I loved looking at all the door decorations, and frankly, I was happy when the hotel security made us take them down, because then ALL of us got to see them when we ended up hanging them in the banquet hall. Wow, BCR fans are a talented bunch!! Bear and her hubby had the winning door, and it was fantastic!! They recreated BCR (and Rosetta Stone) album covers in 3-D, and even had a white blinking arrow on their "Elevator!" That was too cool, (as were Bear and her hubby...I really had a ball talking to you two!) JJC: Some fans created a "Les" doll, nearly life sized! A lot of fans had fun taking their pic with the Les imposter!
JJCtheBD: There was also a "Ms. Roller Gear" contest, the entire room got to vote for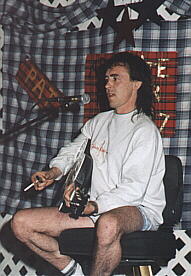 their fave. Tartan underwear was finally beat out by a more conservative rendition from Michelle-"Mic Mouse" wearing shorts in a red theme, the white jacket and pants with Tartan trim was a close second, and they were both awarded with a gift basket. And wow, what a collection of stripey socks!
Rmosley: The "before and after" fan photos (for the "You're a Woman" contest) were a hoot, even if I couldn't figure out who was who! We knew Debbie would win that contest when we saw her up there studying it for such a LONGGGG time! LOL (She correctly matched up all but two fans.) JJC: Afterwards, the "solution" was played on video. It is surprising to see how much some people have changed, and how some have stayed the same, but for the most part, the BCR pix and posters were a "constant" in a lot of those photos!
JJCtheBD: The scavenger hunt was a real riot! Appointed runners would bring items to a 'Fest committee member, each stationed in a corner of the room. The brave committee members stood firm, although life and limb were threatened a few times! Does a picture of a baby in a dog costume qualify as "a picture of a child with an animal"? Table 2 won, they had a lot of odd stuff ready to "roll", although, no-one had a ticket from last year's 'Fest- for shame!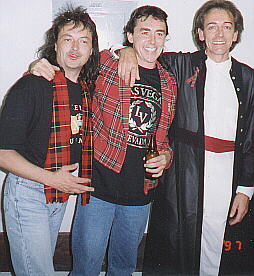 Patfan4evr: You guys won't believe it!!! The day was great .... the fest was great (the committee did a WONDERFUL job!!!) .... Pat looked totally GORGEOUS ... (ok, so did Ian!!!) .... and the wildest thing was..... NOBBY CLARK WAS HERE!!!! The real deal - the actual man!!! He sang some songs with the boys (Pat, Ian, Craig, Craig, and some guy playing bongos whose name escapes me!) (JJC: John "Gotti" Dolan!)- - he reminisced about the early days of the Rollers - - very interesting stuff - and quite the personable man! I wish all of you guys could've been here - - it would have made the day that much better!!!!
One happy camper!! :::::doing the happy dance for finally meeting the other manomydreams!!!! :::::
Saturday Evening:
Dlubbert: As I was sitting in the best seat in the house (eat your hearts out goils!), I waited with anticipation for the show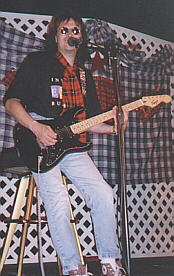 to begin. Ian and Pat and the back up band finally came out and got onstage. At one point during the show, Ian looked directly at me and I returned his gaze and smiled. (Sigh.) I don't remember all the songs that the guys sang, but both Ian and Pat messed up the lyrics on two of them. (I think the guys should have let US sing to them! We know all the words! :)) I think Ian sang I Only Wanna Be With You, Dedication, Rock'N Roll Love Letter, Bye Bye Baby, Pat sang You Made Me Believe in Magic.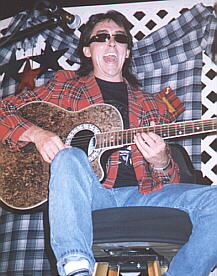 WoodzWren: Pat was damn cute and charming as hell. And, he took the sassy teasing from the audience really well. I know a lot of people became Pat fans over the weekend. I always was (second only to Woody!), but am even more so now.
Rmosley: And who would have guessed Nobby would show up? Talk about a surprise!! What a blast from the past!! Having a chance to meet Pat for the first time was enough, but then to have Nobby show up--I thought it was so fabulous the way Ian set up his entrance by talking about "the original lead singer" and "Manana," then breaking into song. The whole audience was singing "Manana" when Nobby popped up onto the stage and joined us! What a rush. Who would have thought we'd ever get a chance to meet Nobby? And I must say, he is quite a charming man! Though I'm sure he regrets leaving the Rollers (or not?) he did spend many years with them -- mostly the hard ones, before they had any of the perks, and I don't think he really gets acknowledged for that enough. And that's not to say he is better (or worse) than any other front BCR man, there were simply different "eras" of the BCR, and he was one of the early members.....I was really impressed with him, he's really a nice man, and he's still got a great voice.
Dlubbert: Nobby showed some slides of the BCR from the late 60's and early 70's. We saw some very OLD photos of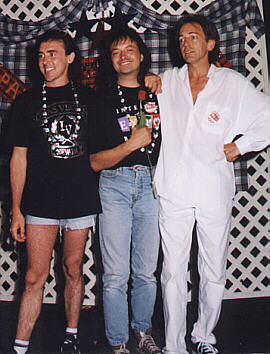 Derek, Alan, and Eric. Nobby talked briefly about the early days. He then sang a sad song- accapella! Ian and Craig returned to the stage. Then, Nobby started singing "Can't Help Falling in Love," that very famous Elvis song -- acappella. I wondered why he was singing this song. It's not a Roller song, it's not original material. . .
JJCtheBD: This was a tune that was popular in the BCR early days, and one that they would do at their gigs.
Dlubbert: As Nobby sang, he walked down the steps at the front of the stage . . . and right towards me. He held out his hand and I took it. I thought "What is going on here? Why is this happening to me? (My memory of the evening is somewhat foggy, as I was in a daze. Wouldn't you be? So if any of you out there remember any other details, please post them.) Nobby led me to the steps and we sat down on the stage. He was still holding my hand and continued to sing to me. I, being the sort of person who does not like to be in front of a crowd with everyone looking at me, was feeling a little embarrassed. I buried my face in my left hand a couple of times, tho I tried to keep my gaze on Nobby. I was still in shock. You do not know how this kind of thing feels if it has never happened to you. It's a mixture of emotions and I find it difficult to explain.
Rmosley: Debbie, you handled yourself with such grace!! I didn't even see you shake!! You looked beautiful up there and you looked VERY HAPPY!!!!
Dlubbert: I looked out into the audience a few times. All I could see were outlines of faces. The room was dark, but the lights that lit up the stage were very bright. I was aware of cameras flashing but basically, I couldn't see anything out there. I also looked behind me a couple of times, expecting to see someone else. (Was Ian sitting there? I don't remember.)
Rmosley: Debbie, Nobby was not singing this song acapella...that was a different song. For your serenade, Ian and Craig were accompanying him. Ian was getting quite a kick out of it in fact, and at one point he laughed right out loud, then said "sorry" into the microphone. It was great fun!!
Dlubbert: Was this really me sitting on the edge of the stage, being serenaded by the original lead singer of the Bay City Rollers? I don't know how long we sat there. It seemed like forever. As the song ended, I am sure the crowd responded with their approval, but I did not hear them.
I kissed Nobby on the cheek (I left a lipstick mark -- Ginger Flower) and gave him a hug. I didn't know what else to do. We stood and walked down the steps. I thought he was going to lead me back to my seat. Well . . . not quite.
Earlier in the show, I had noticed a red rose lying near the front of the stage, off to the side. I assumed a fan had placed it there for one of the Rollers. Much to my amazement, Nobby picked it up and presented it to me. He was promptly rewarded with another hug and kiss.
What a way to cap off a great day!
JJCtheBD: All the guys came back on stage to finish the show with "Remember", a BCR tune that Nobby sang before he left the band in 1974.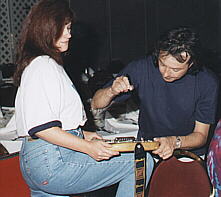 Later, Ian, Pat and Nobby graciously spent more than two hours signing autographs and having pictures taken with each and every person that waited for the opportunity. (Wow, I bet they could have really used hand massages after that!) Pat kept putting on his sunglasses, and was grinning from ear to ear, he really seemed to be enjoying himself! Lots of fans had a lot of BCR related memorabilia that I had never seen before, some of it even surprised the guys! It really made me stop and think- it seems a lot of people made money off of their image except for them!
Finally, the last of the fans had their items signed, a few more pictures were taken, and a most memorable evening was over.
Rmoslely: Here's my round of applause for the Absolute Rollerfest '97 committee: ::::::clap, clap, clap, clap, clap, clap, clap, clap, clap, clap, clap, clap, clap:::::::::: Thanks again!!!
Till next year, keep on rollin'!! Becky
Sunday Afternoon:
Bearwmn: The pool party,...I think that the "party" portion of it kinda fizzled out. There were probably 20 of us, sitting in the shade, waiting on the birthday boy to arrive. Which he did, about 2 hours late...(like i said before, ONLY for Ian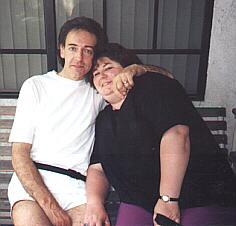 Mitchell would I sit outside in the desert heat for 2 hours). and it was HOT, i think 105.
Pat and Janine arrived first and were immediately surrounded by people wanting to talk to Pat and get more pictures with him. Pat very graciously posed with everyone, while Janine found herself a lounge chair, in which to bask in the desert sun.
Even though I thought I was keeping and eagle-eye (or would that be a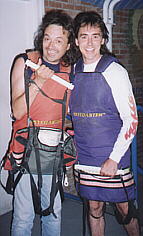 bear-eye) out for the arrival of Ian, i missed him showing up...I only realized that he was there when the crowd of women around the pool grew quite large....He too was immediately surrounded by us crazy women, wanting more hugs, kisses, and pictures, which, being the great guy that he is, he was only to happy to supply. The bunch of us gathered around Ian (by this time Pat had left) really annoyed the other guests who were there turning their skin into leather. However, some of the 'other' people (you know, not Roller fans) wanted their pictures taken with Ian too. Anyway, Ian is still posing for pictures and stuff, when someone tells him he has to take his clothes off...so he took his shirt off, and then someone said the pants too...he did open the top button (OHHHH shades of yesteryear...) and continued to pose and meet and greet.
We did rather hurriedly 'sing' (and I use the word sing very loosely) Happy Birthday to him... That was about the size of the pool "party." Bear
the End
---
if you missed the Fest, here is some
Merchandise
---
The concert video "Absolute Rollerfest (tm) '97" is now available!

It features Ian Mitchell, Pat McGlynn and Nobby Clark!
It includes concert footage, plus Nobby Clark's slide presentation of the early days of the BCR.
The one hour, 15 minute video is offered at-cost, for only $10, including shipping in the US.
A special plastic cover with Rollerfest artwork is available for an additional $3.

"An added incentive to order the "Rollerfest '97" concert video: It includes Duncan's very special 13 minute audio message to 'Festers! We added photos so the screen wouldn't be blank. Pix you've seen, and three that have never been published,(thanks to Heather Jansen, Susan Dawson and Mara Fox) plus 46 seconds of moving pictures from Los Angeles in 1994! OR, if you really just want Duncan's audio message, send an audio cassette and $2 for shipping, Or $5 for a tape, and I will copy it for your collection. "

---

Ian Mitchell and Pat McGlynn live in Yokohama cassette tape. Unedited, directly from the monitor, hear it from the band's "point of view". $10, plus $2 shipping.

including:
Get me outa LA, Lonely Nights, Eloise, Write a letter, ...

Nobby Clark, Mission Hall. Seven brand new songs from the original lead singer of the BCR. Hear the first voice to lead the band! Tape $10, plus $2 shipping.

Mission Hall, Leave my heart alone, Somethings gotta hold of my heart, Give a little sign, Just a line, Show me how, I like you too much

---


Ian's promo video. A short (under 15 minutes) look at Ian's career, designed to promote him as a speaker with the NSA (National Speaker's Association). $10, in plain white paper box, includes shipping.
---
This merchandise is currently handled by Jeanie Cafferty for Ian Mitchell, all profits from these items will be shared with the artist. Make check or money order payable and send it to: Jeanie Cafferty 5718 Harco St. Long Beach, CA 90808, USA. For orders from outside the USA please Email Jeanie for shipping costs.
There is also a Biography on Ian Mitchell: Dedication. It is available directly from the writer. You can email her at: Saxon777@aol.com
---